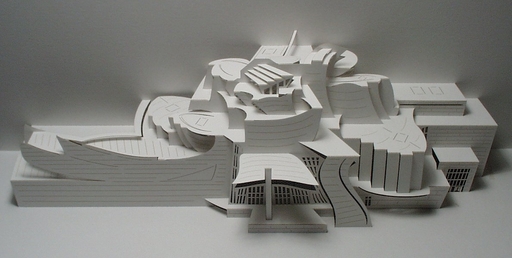 Main projects 2011:
Pool Stockholm, Sweden. Paper Architecture design of the new arena in Stockholm: 'Stockholmarenan'. July/August.
Faculty of Architecture TU Delft. Farewell Gift for a professor: a paper-architecture design of Villa Medici in Fiesole (Italy) and a design of the analysis of this villa.
Main projects 2010:
Holland America Line. Two sculptures - made from thin PMMA - for their new boat 'Nieuw Amsterdam'. The topic of the sculpture is New York and its history. September, 2009 - July, 2010.
Roche-Bobois, France. An abstract artpiece for an advertising campaign of this France interior brand. September.
The New York Times, America. For the cover of their interior magazine named 'Key', a sculpture that has buildings as a topic. October.
Bouwfonds Development, Hoevelaken. A design for their Christmas cards, mainly being the logo of Bouwfonds Develop. November.
Point to Paper, Waalwijk. Christmas design of their new building. November.
Shopping mall 'Elements', Hong Kong. Lifesize - and bigger - Christmas decorations for in the shopping mall. November.
Wallpaper* magazine of design, interiors, fashion, art en lifestyle - London, Engeland. A design (stars) for their Christmas cards. December.
Main project 2009:
Bouwfonds Ontwikkeling, Amersfoort, Netherlands, five projects - buildings from their five different regions - in one card (A3 format). The buildings are: de Sphinxen, Holterveste, Vossepolder, Villa Riva and Villa Terwijde. The cards are used as Christmas cards. November/December.
Latchways plc., England, limited edition cards - 500 pieces, numbered and signed -. The keyword for this project was @height. The cards are used as Christmas cards. October/November.
For Nike Europe (through Artbox/OY comm., Amsterdam, Netherlands) a Football retail event invitation card (format A3) of the Camp Nou stadium located at Barcelona, Spain. March.
Through Artbox, a design for invitation cards for ADCN (Art Director Club Nederland), Amsterdam, The Netherlands. These Invitation cards are used for the 42nd ceremony of the advertising prices of the year. Illustration done by Sylvan Steenbrink. March.
Wallpaper* magazine of design, interiors, fashion, art and lifestyle, London, England. Design for the cover (limited edition) of their February issue (see images at the bottom of this page).
Alan Hill Design, New York, U.S.A. For a client of Alan Hill Design, a paper-architecture design of the building at 350 West Broadway, New York (for invitation cards purposes). January.
Main project 2008:
Chapman Taylor LLP, Architects Masterplanners Designers, London, England. Paper architecture design of the extention to the Science Technology Park building located at Bolzano. Spring - Summer (see image at the bottom of this page).
Main project 2007:
Firma Brand Communications, Barcelona, Spain. Three designs (one abstract and two buildings) for a client of Brand communcations (Fa. Anida, Madrid). One of the buildings was the Guggenheim in Bilbao (see image at the top right corner of this page).
Main projects 2006:
Bilgaard - Leeuwarden, Netherlands. 'De Speelkoepel', Speeltuin/multifunctionele muziekkoepel. Design of Albert and Van Huut BV. Autumn - Winter.
DAM (Denver Art Museum), Denver, U.S.A. Two designs of the expansion to the museum, being the 'Frederic C. Hamilton Building'. Spring/autumn.
Main projects 2005:
Shamlian Advertising, Philadelphia, U.S.A., Christmas design: 'Delancey Street', October/November.
Xn-editions, Paris, France: participation (3 designs and cover books) 'White Book' of Francesca Gabbiani, limited edition artbooks (20 pieces), Spring/Summer.
Main projects 2004:
Assignment Museum of Modern Art, New York, U.S.A.: Invitation cards opening 'New MoMA building' (cards of the new building and for design shops MoMA).
Limited edition cover of the february 2009 issue of their magazine:
Photographer: Matthew Donaldson.
Science Technology park Bolzano (2008):