Christmas decorations/solo exhibition at shopping mall 'Elements', Hong Kong.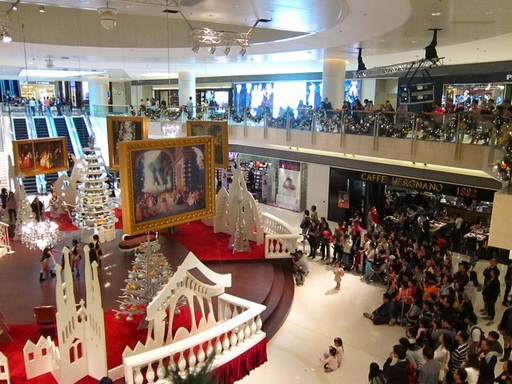 Some words from the website of 'Elements: November 12, 2010: '..CHRISTMAS CAN BE MORE THAN A CARD...ELEMENTS PROUDLY PRESENTS LA GRAND MUSEE D'ART PAPIER...'
'...This Christmas, you can experience a fruitful 3-dimensional white Christmas with master artwork that based on Ingrid Siliakus's artwork at ELEMENTS!
Metal Zone: Enjoy a traditionally light filled European Christmas
Discover a beautifully crafted Siliakus-inspired European white castle and English ceramic Christmas tree bathed in the first-ever 3-dimensional lighting effects at shopping malls with ultra-large chandelier installation on the top.
Water Zone: Explore Ingrid Siliakus's spectacular paper world!
Travel to about 20 majestic original Siliakus paper re-imaginings of major world landmarks showcased in painting frames in the Christmas dining room...'
For the pressrelease look here: http://www.elementshk.com/eng/elements/detail/000000007.htm
For some more images and a YouTube video take a look here: http://www.elementshk.com/eng/elements/detail/000000008.htm
Publications: