Light gray version of the art-piece for the boat 'Nieuw Amsterdam of H.A.L.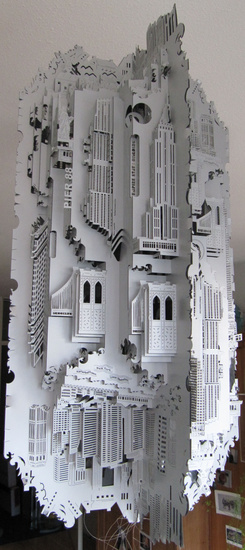 60 x 30 x 30 cm, © 2010, not for sale
Three-dimensional | Sculpture | Synthetic

The work has four sides. Each side has been cut and folded out of one (single) piece. The history of New York has been incorporated into the object: on some sides at the top and on others at the bottom a design of former New York is shown. There where former New York is shown on top, at the bottom a design of modern New York can be found. The skyline in the artwork is that of Manhattan. Furthermore, differently on two sides there are famous buildings added, including the Empire State Building, Rockefeller Centre, the Chrysler building, Flatiron, etc. A design of the famous Brooklyn Bridge is part of this artwork as well. The boat 'New Amsterdam' where both artworks (the light grey and the dark grey version) are located is reflected in the work; in some side the front of the boat is facing former New York and in other side towards today's New York. Since water plays a major role in the history of New York, this also is included in the artwork. In the light grey version a two sided dark grey interior is visible. The design of this interior is that of the Statue of Liberty. The edges of the four outer sides and that of the two inner sides are attached to each other by means of integrated tabs and slots.